With the vanishing of the headphone jack, wireless earphones started streaming into the market quickly but despite the relative convenience they offered over wired earphones, they still weren't completely wireless. Most of them had to be slung around your neck and had to be charged every now and then. That's why true wireless earphones, or TWS earbuds as they are called, are being bought like crazy by consumers. They offer the much-needed freedom from cables and come with their own charging cases that ensure that they are ready to work all the time. Over the years, brands have improved their TWS earbuds a lot and the US market is now filled with amazing options in all price brackets. Let us take you through the best among them.
Samsung Galaxy Buds+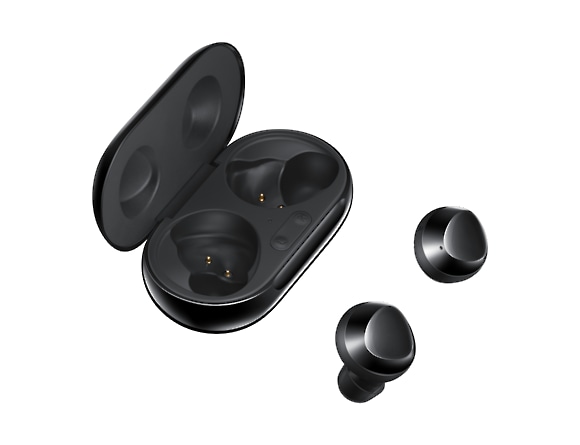 Samsung's entry into the TWS space came with the Gear IconX earbuds back in 2016, but the latest product of its technology is the Galaxy Buds+. These offerings impress with their 11-hour battery life. And that's excluding the 11-hour battery life that their charging case can offer, bringing the total battery life to a whopping 22 hours. They can charge very quickly as well, whether it's with a cable or wirelessly. With their 2-way speaker, these earbuds are able to deliver sound tuned by AKG that's rich in treble and bass. Moreover, an adaptive 3-mic system deployed on the earphones makes sure that your calls are crystal clear. The Samsung Galaxy Buds+ cost just $149.99.
Apple AirPods Pro
Apple revolutionized the market with its AirPods and late last year, it updated them with the Pro model. Apart from an updated design that gave them a more attractive shape, these earbuds also added a few more exciting features. Among them is active noise cancellation, which is achieved with the help of microphones detecting outside sound and speakers producing precisely opposite anti-noise. Moreover, they are rated IPX4 for water resistance, which means wearing them during your daily runs or workouts won't do them any harm. And in case you're worried about them falling off your ears, they ship with silicone tips of three sizes. The Apple AirPods Pro are priced at $250.
Google Pixel Buds
If you're fond of the Android ecosystem, Google's Pixel Buds are meant for you. These excellent TWS earbuds come with an adaptive sound technology that adjusts their volume when you move between noisy environments and quiet ones. They feature 5 hours of battery life, but can provide 24 hours in total if you charge their case fully. Charging is fast as well, for a 10-minute burst of charge is enough for 2 hours of listening time. Just like the AirPods Pro, these earbuds also bear IPX4 certification. A very neat feature is their integration with Google Translate, which can offer real-time translation to you as you hear other people speaking a language you're not familiar with. The Google Pixel Buds cost $179.
Sony WF-1000XM3
Sony's WF-1000XM3 model is a cut above the competition. At $230, these earbuds offer industry-leading noise cancellation, which is achieved with Sony's very own QN1e noise cancelling processor. This processor works with two microphones  – one pointed at the front and one at the back – that catch the ambient sounds from your surroundings and help it cancel noise across almost all frequencies. The WF-1000XM3 earbuds from Sony are good for 6 hours of battery life, with the case being able to hold 3 full charges, taking the total battery life to 24 hours. And yes, brilliant sound quality is on offer through these true wireless earphones.
Jabra Elite Active 75t
As the 'Active" in their name indicates, these earbuds are targeted towards athletes. And hence, Jabra claims to have scanned thousands of ears and ran them through their advanced algorithmic simulator to develop the best-fitting shape. And they're also IP57 rated, which makes them more waterproof than any other set of earbuds in this list. The Jabra Elite Active 75t are able to deliver up to 7.5 hours of battery life or up to 28 hours with the charging case. They even support USB Type-C fast charging, moreover. With their superior design, these earbuds create a noise isolating fit, but a HearThrough feature has also been added to them for when you wish to listen to a bit of outside sound too. They are priced at $200.
Sennheiser Momentum True Wireless 2
If you're looking for superior sound quality from your true wireless earbuds, don't look any further than the Sennheiser Momentum True Wireless 2. Their bespoke 7mm dynamic drivers dish out deep bass, natural mids, and clear, detailed treble. And with the help of an app, you can even fine-tune their sound with built-in equalizers. These earbuds boast of 7-hour battery life that can be extended up to 28 hours with the help of their case. Active Noise Cancellation support is another feather in their cap and so is the IPX4 rating for water resistance. With so many top-end features, their price had to be steep and it is. $300 is what you'll need to shell out in order to buy these.
Beats Powerbeats Pro
Another Apple product on this list is the Beats Powerbeats Pro. They're marketed as workout earbuds and they hence come with an adjustable design that can fit all ear sizes perfectly. They're also sweat and water resistant, which is not a surprise. What's exciting however, is that the Beats Powerbeats Pro offer 9 hours of battery life on their own, while more than 24 hours of juice is on offer with the case in tow. These earbuds are powered by the same Apple H1 chip that goes inside the AirPods Pro, so expect the same functionality and sound quality as well. It however, misses out on the noise-cancelling feature though. Upon launch, they were priced at $250, just like the Apple AirPods Pro, but their price has dropped now and you can grab them in exchange of $200. They're available in a variety of attractive color options.