2020 is upon us, and while it has been plagued with the coronavirus pandemic, there's still a silver lining awaiting us at the end of the year in the form of the impending launches of the PS5 and the Xbox Series X. With these consoles, Sony and Microsoft wish to imagine what next-gen gaming truly means. They have both unveiled all the main details regarding the machines, while keeping mum about their prices. At the moment, we understand what your predicament will be this holiday season – which among the two consoles to go for. That's why we've decided to give you a detailed comparison of the two.
Specs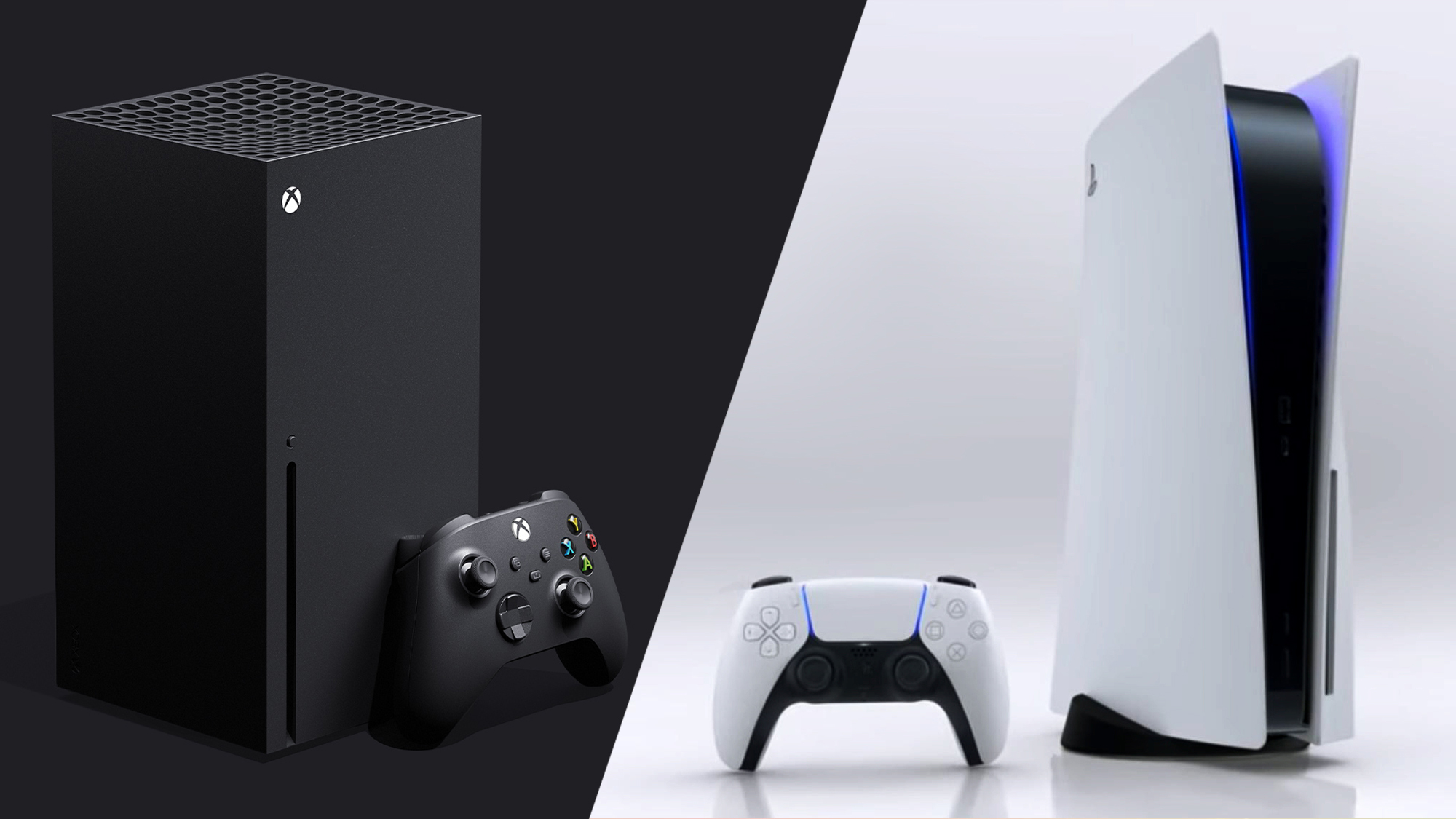 Internal hardware always tingles the curiosity of hardcore gamers, so both Sony and Microsoft have made it a point to unveil everything that makes up their machines. For the record, both the consoles will be able to output 8K visuals and will support 120Hz refresh rates in 4K resolution. Considering so few people in the world own 8K TVs, the latter statistic is the most exciting one. You can also note that ray tracing will be supported by both of them. A feature reserved for really high-end PCs before this, ray tracing is a performance-intensive lighting technique that significantly enhances the visual experience of games.
What The PS5 Has To Offer
The PlayStation 5's specs are highlighted by its custom-built third-generation AMD Ryzen chipset featuring 8 cores built with the company's new Zen 2 architecture. The cores will be clocked at 3.5GHz, while the GPU will have 36 compute units running at 2.23GHz and offering a performance of 10.28TFLOPs. As for the RAM, the PS5 will ship with 16GB of GDDR6 memory with a bandwidth of 448GB/s. In additional Sony has come up with its proprietary 3D audio technology as well. Powered by its Tempest engine, this technology can handle hundreds of sound sources at once, letting you hear individual raindrops depending on where your character is standing.
A big part of the next-gen console experience will be faster load times that will be made possible by the shift to SSDs rather than traditional hard drives. The PS5 will offer a custom-built SSD bearing 825GB of storage with a raw 5.5GB/s throughput and up to 9GB/s worth of compressed data. Sony demonstrated the big difference that this makes by showing us how fast Spider-Man PS4 loaded on its SSD compared to a traditional hard drive.
What The Xbox Has To Offer
Moving to the Xbox Series X, this console too will use AMD hardware. Its octa-core Zen 2 setup boasts of a peak speed of 3.8GHz and a base speed of 3.6GHz, making it slightly more powerful than the PS5. But the real difference between the two is in the graphics department. Microsoft has opted for a GPU with a performance of 12TFLOPs, with 3328 shaders allocated to its 52 compute units. The RAM on the Series X console will also be 16GB GDDR6 in nature. So, on paper, the Xbox Series X definitely looks like a more powerful console than the PS5, but real-world performance can only be experienced once we get our hands on both the machines. Also, it has been found that the new Xbox will consume considerably more power than the Sony console, so get ready for higher electricity bills if you opt for it.
Load times on the Series X console wouldn't be as fast as those on the PS5 though, since Microsoft has gone for a 1TB NVME SSD that offers 2.4GB/s raw throughput. That's less than half of what the PS5 offers. An Auto Low Latency Mode (ALLM) has been developed by Microsoft for communication improvements with the controller. And then there's even Variable Refresh Rate (VRR) support that takes advantage of TVs with HDMI 2.1 support. This console will be backwards compatible with all of Xbox One's hardware accessories. Microsoft has also detailed a Smart Delivery feature, which will let you play "best possible version" of a game you've bought on the Xbox One, without having to purchase it again.
| | | |
| --- | --- | --- |
| Component | PS5 | Xbox Series X |
| CPU | 8x Zen 2 Cores at 3.5GHz (Variable Frequency) | 8x Cores at 3.8 GHz (3.6 GHz w/ SMT) Custom Zen 2 CPU |
| GPU | 10.28 TFLOPs, 36 CUs at 2.23GHz (Variable Frequency) | 12 TFLOPS, 52 CUs at 1.825 GHz |
| GPU Architecture | Custom RDNA 2 | Custom RDNA 2 |
| RAM | 16GB GDDR6/256-bit | 16 GB GDDR6 w/ 320b bus |
| Memory Bandwidth | 448GB/s | 10GB @ 560 GB/s, 6GB at 336 GB/s |
| Storage | Custom 825GB SSD | 1 TB Custom NVME SSD |
| I/O Throughput | 5.5GB/s (Raw), Typical 8-9GB/s (Compressed) | 2.4 GB/s (Raw), 4.8 GB/s (Compressed) |
| Expandable storage | NVMe SSD Slot | 1 TB Expansion Card (Matches Internal Dtorage Exactly) |
| External storage | USB HDD Support | USB 3.2 External HDD Support |
| Optical Drive | 4K UHD Blu-ray Drive (optional) | 4K UHD Blu-ray Drive |
Controllers
Both the companies have announced new controllers for their next-gen consoles. The PS5 gets DualSense, a newly designed controller with haptic feedback rather than the traditional rumble vibrations. Haptic feedback simulates touch with the help of special motors and this will indeed lead to a more immersive experience. The shoulder triggers (L2 and R2) of the DualSense controller have been designed in a way that developers will be able to program the resistance they offer. The 'Share' button has been renamed to 'Create," while the light bar has moved to either sides of the touchbar, which has been retained despite so few games actually making any good use of it. The controller will now charge with USB Type-C and it, of course, offers a 3.5mm jack for wired headphones.
The new Xbox controller hasn't focused much on adding big changes, but there are still a few noteworthy additions. A revamped D-pad, like the one present on the Xbox Elite Controller Series 2, has been added, along with a 'Share' button to bring it in line with the PS5 controller. The form factor has also been changed to suit the grips of a wide variety of hands. And then there's the Dynamic Latency Input, which we've already talked about.
Backwards Compatibility For Games
Sony has confirmed that nearly all of the top 100 PS4 (ranked by playtime) games will be compatible with the PS5. The list is expected to grow in the years to come, moreover. However, nothing has been said about PS3 or older games. Sony currently offers those games to PS4 users via its PS Now subscription program. There's no word on whether it will be available on the PS5. The Xbox Series X stands in stark contrast with the availability of "thousands" of old titles. Yes, games from the original Xbox, the Xbox 360, and the Xbox One will be supported by the next-gen console.
External Hardware
Just like its controller, the PS5's body too has been given a two-tone black-and-white look. The console can be placed horizontally as well as vertically. The heat vents are located at the top of the machine, while the front bezels include inputs for USB-A and USB-C ports. More importantly, the PS5 will be sold in the form of a digital-only model that won't feature an optical disc drive. So expect its price to be lower than that of the variant that comes with an optical disc drive. The Xbox Series X has been talked about a lot for its trashcan-like shape, but whatever the case, it has still gotten people talking about it and that's what's important. This unit too can be used vertically and horizontally, as its fan has been located at the top. The main power button and the optical slot are on the side of the console, whereas HDMI 2.1 output and USB 3.2 ports can be found on the back.
Price And Release Date
Neither Sony nor Microsoft has confirmed the price of their next-gen consoles. However, analysts have predicted that $499 is the sweet spot that Sony will be looking at with its PS5. As for the price of the Xbox Series X, it's expected to be even lower according to analysts, at $399. This could mean a considerable advantage for Microsoft in the console wars. But these are still early days for predicting the prices of both the consoles, so take both those values with a pinch of salt. The release dates of both have been kept under the wraps for the time being, but what we know fore sure is that they will be arriving during the holiday season, along with a host of exciting games.